Recent Posts
2
"Iron Man" in Belgrade
https://www.youtube.com/watch?v=hLTJjL4gIYc
3
Nevada has joined the ranks.
Nevada Poised To Become 15th State To Ditch Electoral College
May 22, 20197:31 AM ET
Matthew S. Schwartz
https://npr.org/2019/05/22/725616541/nevada-poised-to-become-15th-state-to-ditch-electoral-college
President Hillary Clinton?

That would have been the result of the 2016 presidential election — if the National Popular Vote Interstate Compact were in effect.

With a state Senate vote Tuesday, Nevada is close to becoming the latest state to sidestep the Electoral College when it comes to electing presidents.

According to the National Popular Vote organization, which oversees efforts to persuade states to join the compact, 14 states and the District of Columbia have agreed to pledge their 189 electors to the winner of the national popular vote — regardless of which candidate won the state. Nevada, with its six electoral votes, would bring the total to 195. Once 270 electors are pledged, the compact would kick in.

The effort is part of a national movement to neuter the Electoral College and give more weight to the popular vote. Democrats in particular have been stung by the Electoral College, which effectively gives disproportional voting power to smaller, rural states that tend to vote Republican. In addition to President Trump, George W. Bush also won the White House without winning the popular vote.

The audacity of these jackasses. Here's the link to the subversive organization's website. Do nothing or the exact opposite of anything it says there if you're an American.
https://nationalpopularvote.com/state/nv
Last Edit by Palmerston
4
---
---
This guy Ryan Dawson is great on geopolitics and 9/11 and stuff, but hasn't got a clue about religion/the occult/Mystery Babylon stuff so his tirade in this video against religion is kind of out of place, just a warning. Same with all atheists, they blow off anything about religion and won't listen to a word of it or how it applies to these topics. It doesn't matter if
you
don't believe in it; the people you're talking about
do
believe in it.
Last Edit by Palmerston
5
Albeit a neo-con herself, Coulter is spot on about immigration. I'll say it a million times, Mexico is committing acts of war on the US. They need to learn their lesson. But the politicians on this side of the border are basically allowing this to happen, so there's that too. Letting this continue is sedition. And Trumps great idea? Place them specifically in cities that will help them with their sedition! HELLO? Traitors all of them.
Ann Coulter: Four myths the media and politicians tell you about our border crisis
https://thehill.com/opinion/immigration/444437-ann-coulter-four-myths-the-media-and-politicians-tell-you-about-our
By Ann Coulter, opinion contributor — 05/20/19 10:30 AM EDT
The views expressed by contributors are their own and not the view of The Hill
Every single thing the mainstream media says about the border crisis is a lie.

Media Myth #1: Illegal immigration at all-time low!

Most Americans hear that and think, Trump got us out of bed for this? There are FEWER illegals coming in?

As you might have surmised from the illegals flooding your hospitals, schools and churches, that's a lie. According to U.S. Customs and Border Protection (CBP), illegals have been pouring across our border at rates not seen for more than a decade: 76,000-plus in February, 100,000-plus in March, 100,000-plus in April, 100,000 and climbing so far in May.

In fiscal 2016 — the 12 months before Trump won the presidency — an average of 46,000 illegals crossed the border each month. Today we're taking in twice that many.

And those are just the number of "undocumented immigrants" we caught. How many are actually getting in is some multiple of the illegal aliens the Border Patrol stops.

Media Myth #2: Illegal immigrants at our border are LEGAL — because they're asking for asylum.

[continues...]

Last Edit by Palmerston
6
« Last post by Al Bundy on May 22, 2019, 03:50:27 pm »
12 babies in the Banja Luka Clinical Centre due to lack of oxygen.
Republic of Srpska reacted decisively and established the 'Corridor of Life', to prevent such cruel and tragic events from ever happening again," Djokić stressed.
During the patriotic war, twelve newborns died in May 1992 due to lack of oxygen required for their treatment at the Banja Luka Maternity Intensive Care Unit.
The lack of oxygen occurred because Serb territories were blocked by Croat and Muslim military forces.
At the time, Croat and Muslim forces held the "Posavina Corridor", the corridor linking the Bosnian Krajina region with Serbia, under blockade. This made it impossible to bring the required oxygen to Banja Luka by land.
The only possible way to transport the oxygen was by air, but since the Security Council had established a no-fly zone over BiH, the airplane bringing the oxygen from Belgrade was not allowed to make the flight.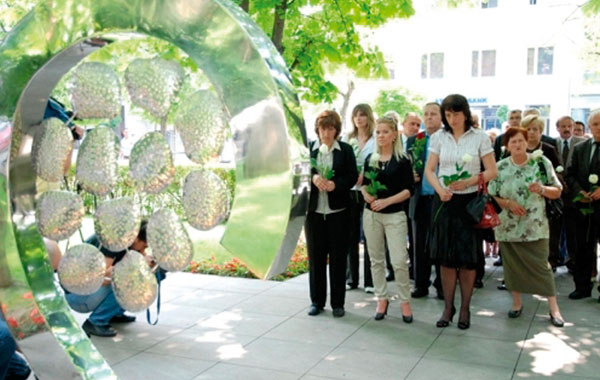 http://www.vladars.net/eng/vlada/ic/ns/Pages/Nineteenth_Anniversary_of_12_Babies_Death_Commemorated.aspx
Last Edit by Palmerston
7
« Last post by tahoeblue on May 22, 2019, 02:21:47 pm »
https://www.newswars.com/conservative-politicians-home-firebombed-while-family-slept/
Conservative Politician's Home Firebombed While Family Slept
Scottish councillor believes he was targeted for murder
By Dan Lyman Tuesday, May 21, 2019
A local politician and his family narrowly escaped a suspected arson attack at their home in South Lanarkshire, Scotland.
Councillor Graeme Campbell of the Scottish Conservatives party says his wife's car was doused with accelerant and set ablaze just feet from where they slept,
and if not for a passing neighbor alerting them to the growing fire, the damage could have been far worse or fatal.
...
Councillor Campbell posted a follow-up video after the fire,
professing to know who the culprits are and defiantly warning he will see them brought to justice.
...
Conservative and anti-globalist politicians across the U.K. have been targeted by radical leftists in recent weeks
, as Nigel Farage, Carl Benjamin, and Tommy Robinson have all been hit with milkshakes on the campaign trail.
...
Last Edit by Palmerston
8
« Last post by Al Bundy on May 22, 2019, 01:01:46 pm »
Muslims are not our enemies, they are our allies fighting for Family Values, against The Banker Gangsters, the Endless Wars of the Military Industrial Complex.

Divided we will fall and fail . . .

Also under Islam, the ONE-EYE is the symbol of the Anti-Christ, so these Muslims are not our enemy.

Signs the Anti Christ coming according to Islam,

see if you agree

:
People will stop offering the prayers
Dishonesty will be the way of life
Falsehood will become a virtue
People will mortgage their faith for worldly gain
Usury and bribery will become legitimate
There will be acute famine at the time
There will be no shame amongst people
Many people will worship Satan
There will be no respect for elderly people
People will start killing each other without any reason





Last Edit by Palmerston



I think is not so simple.
But this quote about Anti-Christ is from Quran ?
Last Edit by Palmerston
9
« Last post by EvadingGrid on May 22, 2019, 12:08:51 pm »
'She needs to go': Now May's Cabinet ministers line up to face the PM in private meetings as MPs demand she quit TODAY amid fury at disastrous Brexit Bill second referendum promise
'Theresa May is facing the threat of an all-out Tory mutiny tonight as ministers desert her and senior MPs warn she 'needs to go'.
Cabinet is mobilising to stop the PM pressing ahead with her Brexit Bill after she sparked a furious backlash by offering to hold a vote on a second referendum.
The so-called 'Pizza Club' of Eurosceptic ministers - including Michael Gove and Andrea Leadsom - met this morning at short notice to discuss the situation.
A senior source said there was a growing consensus that the Bill should not be brought to the Commons. 'The mood music in Cabinet is heading towards stopping it coming back,' they told MailOnline.<div class="" style="width: auto; display: block; margin: 0 auto;">
Icke
Last Edit by Palmerston
10
« Last post by EvadingGrid on May 22, 2019, 11:58:36 am »
Muslims are not our enemies, they are our allies fighting for Family Values, against The Banker Gangsters, the Endless Wars of the Military Industrial Complex.
Divided we will fall and fail . . .
Also under Islam, the
ONE-EYE
is the symbol of the Anti-Christ, so these Muslims are not our enemy.
Signs the Anti Christ coming according to Islam,

see if you agree

:
People will stop offering the prayers
Dishonesty will be the way of life
Falsehood will become a virtue
People will mortgage their faith for worldly gain
Usury and bribery will become legitimate
There will be acute famine at the time
There will be no shame amongst people
Many people will worship Satan
There will be no respect for elderly people
People will start killing each other without any reason
Last Edit by Palmerston