coventrytelegraph.net


http://www.coventrytelegraph.net/ (http://coventrytelegraph.net/)


Angry mum-of-four slams school where children are forced to walk silently in single file 'like robots'
http://www.coventrytelegraph.net/news/coventry-news/angry-mum-blasts-alleged-new-14449366
'An angry mum has slammed her children's school where pupils are forced to walk in single file to their classes "like robots".
Myfanwy Tregowyn, from Coventry, said Cardinal Wiseman Catholic School has turned into a "prison".
The mum-of-four has two children at the school, a daughter in Year 10 and an autistic son in Year 7, with her youngest due to start in September - but says she is now unsure what to do after her eldest begged her to let her move.
Myfanwy accused the school of "stopping children from being children" after her own kids told her about the new school rules, the Coventry Telegraph reports. Spam_A Spam_B She said: "The children were taken out of lessons to practise walking quietly in single file and if anyone came out of line they would get the whistle blown at them.
"It's a new school rule, they have to now walk in single file and in silence between lessons. And you get sent to isolation if you don't follow it.
"My daughter said it's like being in prison."'
Read More
: Angry mum-of-four slams school where children are forced to walk silently in single file 'like robots' (http://www.coventrytelegraph.net/news/coventry-news/angry-mum-blasts-alleged-new-14449366)
Icke (http://davidicke.com/article/465307/angry-mum-four-slams-school-children-forced-walk-silently-single-file-like-robots)
Last Edit by Gladstone
Dr. Andrej Fajgelj: Teaches boys to love friends

Our eight-year-old son was taught at school to kiss other boys, to introduce himself as a girl and to have sexual relations with the same sex. The scariest thing is that no one has noticed these lessons for weeks.
We found out quite by accident, by reporting a child through a shy giggle,
"we did sexier today."
When the bench was considered, we were all equally astonished: parents, teachers and the headmaster.
The lessons were not part of the regular teaching, but of the "Promotion of Human Values" program, implemented by the Red Cross of Serbia with the support of Vucic's Ministry of Health, with the aim of reducing peer violence.
Instead of charity, the value by which we all know him, the Red Cross has chosen to promote
"intercultural values".
If not clear enough, these are tolerance, respect for diversity, gender equality, children's rights. Still not clear?
Here's how: when your sons love friends it's "tolerance", when they play girls it's "gender equality", when they are taught homosexuality they are "children's rights".
It's not sarcasm, the kids are really offered those explanations for those values.
The promotion of homosexuality probably happened by accident. The volunteer spoke about sexual abuse, the children laughed, she explained to them that no one should touch them until they were 18, and that they could have sexual relations "with the opposite sex".
Oops! Inadvertently, she reiterated to the children the politically correct expression that they used to bombard her at all NGO workshops and that all donors love to hear.
Can we blame her?
It is the fault of those who choose the values ​​that will be promoted to our children. Does promoting homosexuality fall within the promotion of humane values?
The liberal dogma that prevails in much of the most developed countries, especially in the European Union and the United States, gives an affirmative answer to this question. She teaches that sexuality and gender identity are a matter of children's freedom of choice: "as if by magic, a boy becomes a girl and a girl becomes a boy" - she writes in a program supported by the Serbian Ministry of Health.
Our deep beliefs that a boy should be a boy, that young children should not be talked about sex at all, and especially not of the same sex, by liberals are nothing but repression.
The striking fist of liberalism in Serbia is the new civil code. His advocates are "introducing new standards of family behavior" as if our families were their inheritance. They aim to reduce peer violence - and the main reform is to declare the parental bullet for abuse.
In some schools, children are already given a phone number to denounce moms and dads - the parental axis of evil.
It will again be a time for the state to abduct children from their parents, something Serbs have not experienced since the Turkish tax in blood. Educated against our will and turned against us, our children will become liberal janissaries.
I have made personal experiences here public, which is why I owe an apology to the rest of the class. Our school is among the best, as evidenced by our common response to this crisis. But others face the same problem: do you know what your kids are learning?
How long will we remain silent?

If we do not make this a public issue, we will not be able to prevent the far greater problems that are threatening all families in Serbia.
It is up to our parents to send the message that our schools and families are not a trial ground for radical liberalism. We will decide the education of our children, the standards of behavior in our families, not the persuaded ideologues who despise reality and arrogant bureaucrats who pay no bills.
Peer violence grew when liberals downplayed the authority of teachers. Their "solution" to diminishing and the authority of the parents will only pour oil on the fire. Authority needs to be restored to schools. Peer violence will not be solved by turning boys into girls, but by becoming knights. Fight, but not to harass the weaker, but to protect him.
Let us dictate the list of our values, lest it be dictated to us by others.
Source: Belgrade-based daily "Vecernje Novosti"
Last Edit by Gladstone
EU condemns proposed criminalisation of "sex education" in Poland !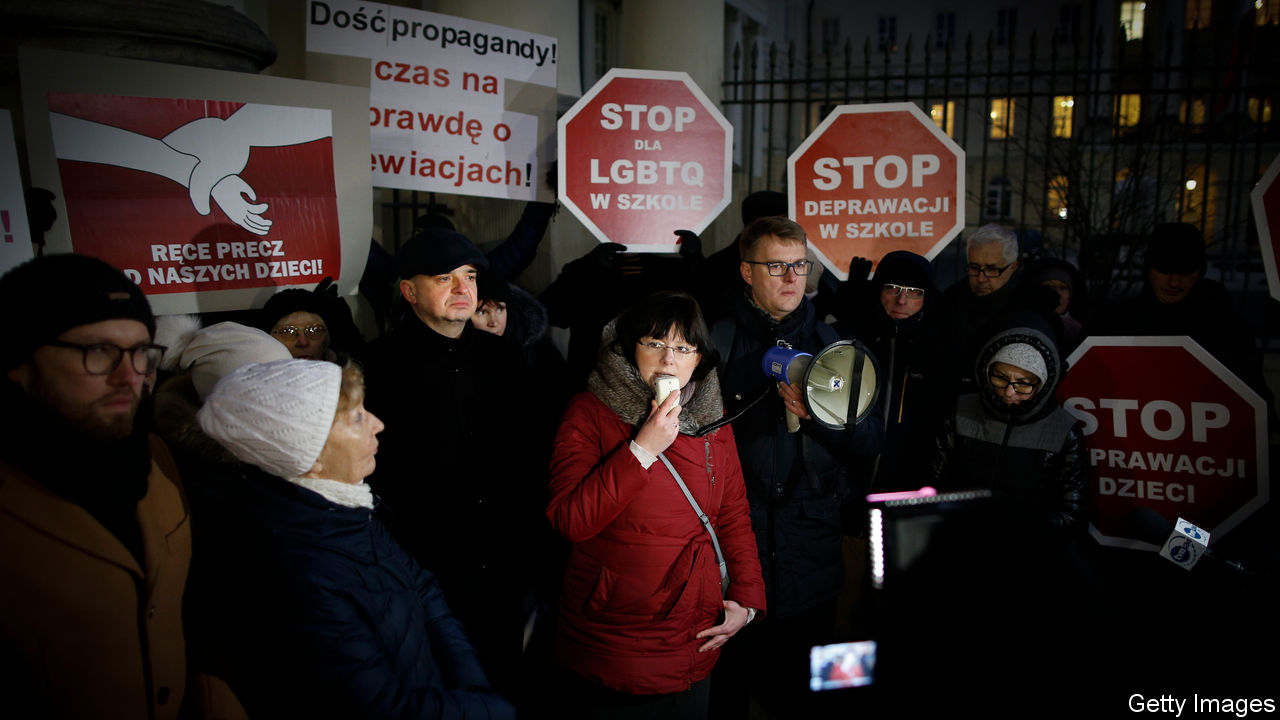 (https://postimages.org/)
https://notesfrompoland.com/2019/11/16/european-parliament-condemns-proposed-criminalisation-of-sex-education-in-poland/
P.S. Poles more loved to hate Russians and US rockets than own children. :(
https://defence-blog.com/news/u-s-missile-shield-site-in-poland-taking-shape.html
Quote from: Al Bundy on Nov 18, 2019, 05:51:23 PM
EU condemns proposed criminalisation of "sex education" in Poland !



The proposed law is presented as a means to "stop paedophilia". It would jail for up to three years those who "propagate or approve of engagement by minors in sexual intercourse or other sexual activity" while "performing activities related to upbringing, education, health care or care of minors, or operating on school premises or other educational institutions".
The EU is triggered after deliberately misunderstanding what is simply anti-pedo legislation.
A suspicious cynic might point out that , its as if the EU are covertly supporting pedo's ::)